An Honest Brewer's Insight:
You may have noticed a lack of negative PicoBrew Zymatic reviews online. If you are already an all-grain brewer, you will likely be able to put the pieces together for yourself, but for everyone else, today I'm going to share the real positive and negative sides of the Zymatic.
The Zymatic is a brilliant piece of brew engineering and has some serious benefits, but there are a few limitations to be aware of before you make your purchase. While it is excellent for new all-grain brewers and even for professional breweries doing pilot recipe trials, you will still want to know the lowdown on how it works and whether it is right for you.
Read on for specific details of this great machine, or read a comparison with other similar systems here.
Overview
The PicoBrew Zymatic comes with a hefty price tag, at USD $2,000, making it more expensive than building your own brew house. But is it worth the outlay?
What you will get for your investment is the most advanced automatic, all-in-one system on the home brewers market. It is super compact, highly automated, fast, and very easy. What it lacks is the ability to produce volumes above 2.5 gallons and a 'human element' – you are locked into one method of brewing.
The Features:
Easy 'set and forget' brewing
Four hour brew time (not including setup and cleaning)
Integrated fermentation system in a modified Cornelius keg
Recipe building software with predictive batch statistics
Mobile brew tracking via smartphone or tablet
Integrated wort cooling system (primitive but functional)
Hundreds of existing all-grain and partial mash recipes
Marketplace and community of existing users
---
Comparison With Other All-in-One Brewing Systems
Just like automatic bread making machines, every all in one brewing appliance has its own shortcomings or design flaws. In the case of the Zymatic, human input has been sacrificed for the sake of automation, cooling and fermentation are primitive for the sake of easy brewing, batch size is severely reduced in order to keep the system compact.
Where the Grainfather and Braumeister can offer a full 20 liter/5 gallon batch, the PicoBrew will only brew 2.5 gallons (9.5 liters). The integrated cooling system involves a bucket of ice water rather than a counter-flow chiller like the Grainfather. Unlike the Braumeister, the Zymatic does not stir grain – it's a simple infusion and recirculation – although the design does compensate for this, you still have an efficiency loss resulting in more expensive grain.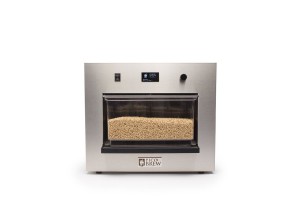 Because the included fermentation system is a modified Cornelius keg, you have to deal with racking (transferring beer) out of a keg and into a secondary keg using CO2 (even bottling will still require CO2). If you don't already have a keg system, you are going to need to get one (or at the least, buy a keg charger here for about $20). It's overly complicated and the major design flaw in an otherwise excellent machine.
These flaws aside, the Zymatic is light years ahead of the curve in automation. You simply prepare your recipe, add the water, grain and hops, press go and walk away until the cooling stage. You then run the cooling cycle and cleaning cycle, clean the large parts, and are finished with your brew until you're ready to bottle or rack to a serving keg!
Due to the massive saving in time, the PicoBrew is attractive to both new all-grain brewers and professional breweries. While brewing a large batch, brewers can rarely afford to take the time needed for a small volume pilot batch of a new recipe. When they do, there may be several revisions before they are happy enough to brew the recipe on their full-size system. The PicoBrew fills this gap perfectly – set it up and press 'start' while you do your day's brewing, and do it again tomorrow with a slight change to the recipe until you have your next winning beer perfected!
---
How It Works
The PicoBrew Zymatic is astoundingly simple to operate – although the included instructions may not seem that way (if you are new to brewing you might need to cross-reference a lot of the terminology with online resources). Essentially you just need to set up, come back in a few hours to switch to cooling mode, add an airlock, and then clean up.
This is what everyone loves so much about the Zymatic: it does the mashing process for you with a high degree of accuracy and there is no stress or mess to deal with as a result of running around your brew house like a maniac.
Since this only includes the one modified fermentation keg, you may want to try here
 for extras.
---
Pros: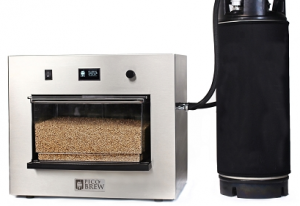 • Super automatic, super easy, 'set and forget' brew day
Mobile brew tracking from smartphone or tablet
Suits amateurs and professionals alike
Saves hours per brew day
Very clean (even dishwasher friendly!)
Compact and space efficient
Includes purpose-built recipe software
High accuracy
Integrated cooling and fermentation
Hundreds of existing recipes for this system
Strong, supportive community and marketplace (including pro brewers)
Cons:
'Human Element' removed – severely limited range of brewing methods
Requires internet connection to access recipes
Ferments in a keg – tricky to rack
Requires CO2 system or other system to rack to secondary
Limited to 2.5 gallon batch size
Limited grain capacity (therefore a limited beer strength)
Maximum of four hop additions (plus dry hop; should be plenty for most recipes)
Instructions may be confusing for new brewers
I love it for: Allowing me to be able to automatically and easily trial variations on a pilot recipe while I focus on my larger batches.
I hate it for: Fermenting in a modified keg. I just don't like racking from kegs. If you need extra modified kegs you will have to buy more here
.
---
Verdict
The PicoBrew Zymatic has a very limited range of brewing techniques and can only handle a small batch, which may make it unsatisfactory for hardcore all-grain brewers who value the ability to control every part of the brewing process (I lean a little bit that way myself).
For beginners in all-grain brewing, for experienced brewers who find themselves poor on time, and for testing trial brews in your commercial brewery, you absolutely cannot look past the Zymatic. The high cost is peanuts compared to the sheer number of hours you save on each brew!
---
Not Sure if it's Right For You?
If you are still unsure, I have compared the top three automated brewing systems here.
CHEERS!
If you would like to buy a PicoBrew Zymatic and you live in the USA, click here to get one with free shipping and an included fermentation keg. If you live outside the USA, your best bet is via the PicoBrew page on Amazon (click here
).
»Please leave any questions or comments below and I'll be sure to answer!«