BeerSmith Software is a very widely used tool for both home brewers and professionals. While reading through various home brewing software reviews, BeerSmith is consistently highly rated, with very little criticism. Now that BeerSmith software is finally available for Mac, I'm able to download it for myself! Click here to get BeerSmith.
BeerSmith is more than just homebrew recipe software – it's a heavy duty brew management tool. It includes so many features that it can actually be a little overwhelming to try if you haven't used software for brewing.
Before I get into the review, please take a look at this quick video from the software creator, Brad Smith:
What Can BeerSmith Do?
The features are really comprehensive, so here are the key highlights for me as both a professional and home brewer: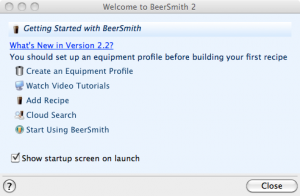 Equipment management system
Highly intelligent recipe builder
Inventory management system
Cost per brew calculator
Shopping list generator
Cloud-based recipe sharing
Huge ingredients database
Huge set of calculators, including alcohol content, bitterness, hop age, water profiles, etc.
There is even a mobile version which will sync with the version on your PC!
I won't continue listing features, as you can look into these for yourself here. What is more important is finding out how well this works for you as a brewer.
When you first launch BeerSmith, you will be asked to enter several details of your equipment, which is made very easy whether you are an extract brewer, use partial mashes, or even have a commercial brewery. This will be your default setting, so as you use the software it automatically adjusts for your unique setup.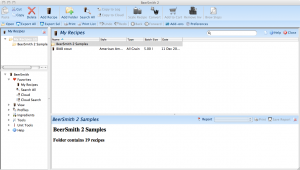 From there, the interface is laid out as a somewhat complex version of Microsoft Outlook. The main features, such as recipe creation, are easy enough to find, but unless you are a genius brewer and also very tech-savvy, you are going to need to look through the tutorial videos to get the most out of this software.
One very cool feature of BeerSmith is that it uses tabbed browsing – if you are in the middle of something but you click on another tool or calculator, it just pops up in a new tab so you can actually switch between several tools at once while you brew.
Is It Worth It?
BeerSmith does come with a price tag, a one-time payment of USD $27.95. While this software is great, is it worth paying for?
Pros:
Extremely comprehensive – I've yet to find a calculation that is not included
Great for all levels of brewing
Familiar interface
Tabbed browsing
Custom calculations based on your equipment
Cost and inventory management
Full brewery management
Recipe sharing and brewers forums
User support
Syncs with your mobile device
Free trial for 21 days
Cons:
You have to pay for it (but only once)
Can be overwhelming
Somewhat complex
Verdict
I would not recommend this software to an absolute beginner, but for anyone who is at the extract brew stage or higher, this is an indispensable brewing tool. Now that BeerSmith is available on most platforms (even mobile) you really should test the free trial version.
If you are still unsure, Click here to download BeerSmith and use it for the free 21 day trial.
Before you do use the BeerSmith software during a brew though, you really should take a look at the videos, also on the BeerSmith download page.
Cheers!
Now that you have BeerSmith running, brew your next batch and share the results! Please leave a comment or any questions below, and feel free to share links to any recipes you wrote on BeerSmith too.