The move into all-grain brewing can be a daunting task, which is why the new all in one electric beer brewing systems have become so popular in recent years. They are easy to set up, highly space efficient, have a super quick brewing time, and you can learn to brew like a pro with almost no experience.
The main barrier for many home brewers is the price tag: which all in one brewing system is right for you, and what is a fair price? In fact, out of the top three, which overall is the best home beer brewing system?
Today, I'm comparing the top three electric beer brewing systems so you can decide which best matches your budget and all-grain brewing requirements.
---
The Grainfather is the best entry-level all in one brewhouse. It has a relatively low price tag being the cheapest of the Big Three. It is also the most hands-on of the three, requiring a bit more attention and manual operation, which some people may actually prefer.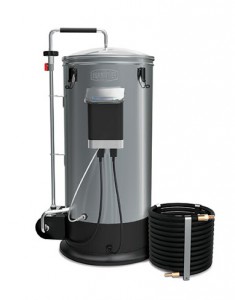 Cost: Around $890 (Lowest)
Automation: Most manual
Extract Efficiency: Most efficient
Inclusions:
Optional Extras:
Sparge Water Heater
Hood for distillation or water purification
Who should buy this?
The Grainfather suits anyone on a budget who does not mind a bit of hands-on brewing. It has all the benefits of making brewing easy for beginners and is a time-saver for experienced home brewers who have been using DIY brewhouses.
Who should not buy this?
If you are time-poor or looking for a truly automatic system, you should spend the extra money to get a Braumeister or a PicoBrew Zymatic.
Best Place to Buy:
Need more information on the Grainfather? Read the full review here.
---
The Braumeister is possibly the most well-known all in one brewing system. It features a German engineering and brewing tradition combined, with great automation and a range of sizes to choose from.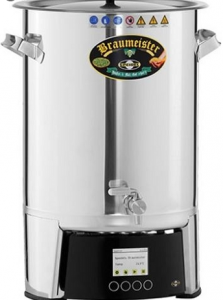 Cost: Around $1,800 for the 20 liter model (Medium)
Automation: Medium
Extract Efficiency: Lowest
Inclusions:
Optional Extras:
All the brewing tools you can think of
Alternate sizes: 50 liter, 200 liter, and even a 500 liter model for microbreweries.
Who should buy this?
The Braumeister is a complete beer brewing system, but there are a few points where you will need to be involved during brew day, but much of the process is automated and easy – you won't even need to stir! At the price tag of $1,800, this makes it a little steep, but a good option for most dedicated home brewers.
Who should not buy this?
If you really need to stick to a budget, you should consider the Grainfather, which is almost as good. On the other hand, if you really need your system to run by on its own while you do other things, the PicoBrew Zymatic is for you!
Best Place to Buy:
Need more information on the Speidel Braumeister? Read the full review here.
---
The most automated brewing system on the homebrew market today. It's compact, runs through a brew day in 4-5 hours, and once it's set it up you only need to come back to configure the cooling system and add the yeast. On the other hand, it's the most expensive electric beer brewing system and has the smallest batch size.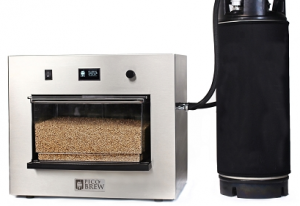 Cost: $2,000 (Highest)
Automation: Best
Extract Efficiency: Medium
Inclusions:
Heat exchanger
Custom fermenter
Connection to online resources and automation control software
Optional Extras:
Who should buy this?
If you have spare cash but you don't have spare time, this unit is absolutely perfect. It is also the best option for use as a pilot brew system in your brewery, as you can set and forget a test batch while you run your primary brew house.
Who should not buy this?
If you don't have $2,000, you can still make great beer with a Grainfather and just take a little more effort per brew day. You could also consider one of the other options if you want more control over the brewing process – the PicoBrew Zymatic demands full control of your brew.
Best Place to Buy:
Need more information on the PicoBrew Zymatic? Read the full review here.
---

So here you have the best of the best of brewing systems available. I have reviewed each in detail; you can find them on my reviews page and decide which of them suits you best. My personal choice, as a professional brewer, is the PicoBrew. I can set this baby up while my full-size mash is going and come back during the boil or the cooling stage to finish it off.
My suppliers of choice for the best prices are Adventures in Homebrewing, who offer shipping to the USA and international locations, and Amazon, who are a great international supplier. Don't delay, as these machines frequently sell out!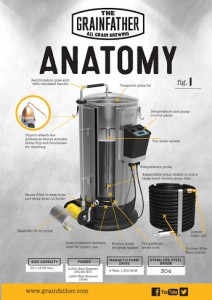 CHEERS!
Thank you for reading my comparisons of these awesome pieces of hardcore beerography! If you have any questions about any of them, please leave it in the comments and I will get back to you ASAP.