An All-In-One Brewing System
Several all-in-one home brewing systems have hit the market in recent years, notably the Speidel Braumeister, PicoBrew Zymatic, Breweasy and of course, the Grainfather Brewing System. These systems offer easy all-grain brewing, featuring compact designs with electronic temperature controls, and in some cases will automate much of the brewing process.
Each have their own strong points, however I have yet to try one that is as effective as a commercial brewery and a team of brewers. That said, they can be great for home brewers who are just starting to brew with grain or have a lack of time or space for brewing.
Read on for specific details of this great machine, or read a comparison with other similar systems here.
How Does the Grainfather Compare?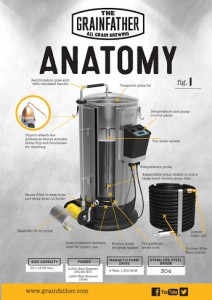 The Grainfather is extremely popular amongst home brewers as the cheapest of the top four all-in-one systems. At around USD $800-900, the Grainfather is a fraction of the cost of any of the main competitors. But is it as good a system?
This brewing system shares some similarities with the Speidel Braumeister 20 liter model, in that it is essentially a large electric boiler with a pump, temperature control, and removable steel basket which serves as a combined mash tun, lauter tun, and kettle. It shares the advantages of space efficiency and temperature accuracy, but lacks the reverse-circulation and automation of its German predecessor. What it does have, however, is a better set of sparging instructions.
The Grainfather is the least automated of the turnkey brewing systems, requiring more attention from the brewer to set mash rests and sparge manually. Unlike the other systems, you'll need to return to the unit to set each mash rest manually, which means you probably won't be moving far from the system on brew day. It also requires several labor-intensive steps, such as lifting the grain basket out of the wort and sparging by hand.

The Grainfather has been well designed for its price-point, with great features to make brew day easy. Best of all, it comes with an included counter-flow wort chiller, making this a very cost-effective unit. It also features simple but effective systems to help you raise and fix the grain basket for sparging, a very nifty piece of telescopic plumbing and a safeguard against having grains flow into your kettle.
However, you will quickly notice a couple of extra steps will need to be taken with this machine. Firstly, you will need a secondary pot (or an optional extra) in order to heat your sparge water. You also need to be extremely careful of the consistency of your cracked grain. My personal pet peeve is a design flaw which requires the brewer to manually scrape cracked grain from the kettle bottom while it is full of wort, before the boil. You also need to be very careful with sparging – this machine can only handle a very precise sparge pressure.
Video: Grainfather Features
Pros:
Very cost-effective
Compact design
Includes wort-chiller
Accurate, electric temperature control
Acceptable mash efficiency
Easy instructions and support
Two-module heating (avoids scorching)
Adjustable parts
Better sparge than main competitor
Simple to clean
Good for low, medium, and high gravity beers
Can be converted to a distillery with a single extra part (check the legality of distilling in your country!)
Cons:
Manual and sometimes labor-intensive
Lacks thorough stirring during mash
Overly sensitive sparge
Only available for 20 liters (about 5 gallons)
Controls can be somewhat complicated
Requires additional equipment (ether a secondary pot or an optional sparge heater)
Requires some lifting (up to 15kg or around 30 pounds)
Verdict
The Grainfather Brewing System boasts the best value for money in an all-in-one system. In fact,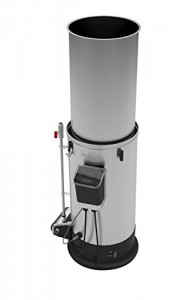 if you are happy to stick to a 20 liter brew and you don't have a need for decoction or infusion mashing, you may find the outlay worthwhile for your first all-grain system.
While the Grainfather is not as fancy, as automated or even as user-friendly as other (more expensive) systems, it will give you excellent results and decrease the work and attention required to make each batch.
If you have USD $2,000 or more to spend on home brewing, you will probably want to aim higher and buy a Braumeister or PicoBrew. However, for a fraction of the cost the Grainfather is a very worthwhile purchase.
The Grainfather is perfect for anyone with time or space restrictions, but without the budget for the more expensive systems. The Grainfather will allow you to make great beer with less effort than a home-made brewhouse and is extremely good value for money.
If this sounds like you, the Grainfather can be purchased at Homebrewing.org if you are in the USA. For international delivery, you can also find the Grainfather on Amazon or in our supplier directory.
---
Not Sure if it's Right For You?
If you are still unsure, I have compared the top three automated brewing systems here.
Cheers!
If you have any feedback or you would like to know more, please leave me a comment or question below!