If you can't use a local brewing equipment supplier, you will most likely turn to an online home brew supplies. Adventures in Homebrewing, located at www.homebrewing.org, has a good range at good prices. But how do they compare to other online homebrew shops?
---
Range: 4/5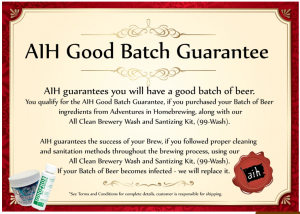 Price: 3/5
Service: 4/5
Shipping: 4/5
Security: 5/5
---
Pros:
International delivery
Cheaper than most homebrew shops
Frequent sales and promotions
Rewards system
Access to customer support, before and after the sale
Very helpful (website and staff!)
Good range
Shipping calculator
Multiple payment options, including PayPal
Site is verified secure and payment system is safe
Cons:
Shipping can become expensive
Cost slightly more than Amazon or eBay (in some cases)
---
They are one of my favorite suppliers whenever I am away from a local home brew store. Their site is easy to use, the staff are quick to answer questions, and they will ship to any location.
I love that they provide international shipping, even though they are based in the USA. They use UPS for rapid service.
I'm not usually into rewards program, but I make an exception for brewing products as I tend to buy so much brewing stuff. Adventures in Homebrewing offers 1 point per dollar spent, and you can spend your points on gift certificates. It works out to a bonus 5%, which really adds up for brewers!
Adventures in Homebrewing has sales and free shipping promotions all the time, which are great to snap up while you are on the site.
Be sure to check out their free shipping on brewing kits!
The website is easy to use and even features a How to Brew page. They have two fixed locations you can visit for assistance if you live in the USA. There is also a dedicated customer support phone number and email address.
If you do get stuck, emails are usually answered within one business day.
---
The cost of shipping makes it too expensive to use AIH for any small or last-minute purchases.
When purchasing overseas, you need to plan ahead. Get everything you expect to need for the next few months, if you can. You can see my guide to keeping hops fresh here.
---
VERDICT:
The cost is usually higher than eBay or Amazon but lower than most fixed location stores. They have a distinct advantage over other online retailers in that they ship to any country and you can still get access to great advice and customer service. And if you haven't already done so, And if you haven't already, check out their Good Batch Guarantee!
This winning combination is what keeps homebrewing.org bookmarked as one of my favorite international suppliers.

Cheers!
Would you like to share your experience with using Adventures in Homebrewing, or have any questions about suppliers? Leave a comment!