---
The Speidel Braumeister was the first of the all-in-one systems that I had ever heard of. Needless to say, I was in love. Even in commercial craft breweries, I had never seen an automatic step-mash control! Of course, I know better now, but at the time my mind was completely blown.
I had to see one in action. I found a Sydney brewpub using a 200 liter Braumeister brewing system (Flat Rock Brew Cafe) where the owner/brewer let me into the subterranean brewery to have a play. It is a marvelous piece of brewhouse!
A 200 liter brewhouse may be a bit much for the home brewer, but the principles are nearly identical on all sizes of Braumeister – so let's examine the features typical to the series.
Features
This all-in-one unit, the Speidel 'Braumeister Electric All Grain Brewing System' works like a super advanced Brew In A Bag (BIAB) system, with greater efficiency and automatic step mashing. The outer basket is similar to an oversized hot water urn, with programmable temperature controls to raise the temperature at set intervals. Within is an extremely well-designed grain basket system serviced by pumps that can flow through the grain in two directions (one direction for mashing, the other for recirculation and clarification).
Check out the Braumeister video here

The Braumeister currently comes in five sizes – 10 liters, 20 liters, 50 liters, 200 liters, and 500 liters. These sizes are based on final volume of beer, post fermentation. Aside from the size of the gear, the main difference is that the 200 and 500 liter models have built-in cranes to help lift the grain basket from the wort. They also have a double-jacket insulation/cooling system.
They are available from a variety of suppliers – I choose Adventures In Homebrewing, although Amazon is also a great option – click here for Amazon in your country.
Read on for specific details of this great machine, or read a comparison with other similar systems here.
---
Review
The Speidel Braumeister claims to be a fully automatic brewing system – this is very nearly true. The process of mashing malt is taken care of automatically, but you will need to return to lauter the wort by lifting the inner grain basket into place and draining the wort from the grains. You will also need to add hops manually during the boil.
You have to hand it to the German engineering of Speidel – the robust stainless steel design of the Braumeister is first class: everything is internally contained and sturdy. It's probably the hardest of the all-in-one systems to damage. This comes with a price, though: it's also one of the hardest to clean.
While still my favorite all-in-one system, there are a couple of fundamental issues. The major drawback is the lautering/sparging system: on the smaller 20 and 50 liter systems, you have to lift the grain basket into place, which works if you have a strong back, but is a nightmare otherwise. You then have to heat water separately to rinse through the grain bed if you want to sparge. The other issue is high gravity beers: due to the precision of the Braumeister, each model has a strict grain limit.
Despite these, the Braumeister is an excellent all-in-one brewing system. In terms of automation, it sits somewhere between the Grainfather and the Picobrew Zymatic. It stands out for having a reversible mash flow, greater brewer's input than the Picobrew, and a less complicated process than the Grainfather. It is equally efficient for space as both the Picobrew and the Grainfather.
---
Pros
Automatic mash and boil schedule
Allows for brewer's personal touch
Sturdy, robust design
Mash is stirred by reversible flow
Very space efficient
Comes in a variety of sizes for home or commercial use
Cons
The price – it's expensive to get the best of the best
Manual lifting required
No integrated sparge system
Manual boil and hopping process (I actually enjoy this, so it's not really a con for me personally)
Cleaning
---
Verdict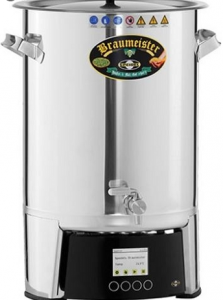 The fact that the Speidel Braumeister is available in a range of sizes is a big draw card for me. Overall, this is my favorite all-in-one brewing system, although the manual aspects mean that I wouldn't be using it as a pilot system for a commercial brewery – I'd see the Zymatic.
Is it worth the price tag? Well, it is not as 'fully automatic' as Speidel claim, but yes. The fact is, it is much easier to use than a Grainfather and your beer is more personal than with a Picobrew.
The Braumeister does not come with an included cooling system (except for the 200 and 500 liter models), but some suppliers do have kits with these included for very little extra. Highly worthwhile.
.
---
Not Sure if it's Right For You?
If you are still unsure, I have compared the top three automated brewing systems here.
CHEERS!
At the time of writing, most suppliers are unable to source the smaller 10, 20 or 50 liter models as Speidel has yet to launch the improved Braumester v2. Please check in with Homebrewing.org or these international suppliers for release updates!
I hope you find my review useful – please scroll down to leave a comment, questions, or experiences below.