There are many kegging systems available to the home brewer, from a mobile picnic cooler and bicycle pump to the glorious in-line chillers used widely across Asia. For many, a compact and cost-effective system is ideal.
Enter the Kegerator
A kegerator is essentially a small refrigerator, modified or even purpose built to fit a beer keg inside and taps in a tower protruding through the roof of a fridge. There is a staggering variety of different professional builds and homebrew kegerator conversion kits available. Today I will cover the designs you are most likely to consider.
Check out my list of suppliers when you make a purchase – the size and weight of a kegerator make international shipping really expensive.
The Kegerator Design
The main attraction of these systems is the simplicity – the very basic design is an electronically
controlled cube with beer inside and taps on top. This means they are not only a great way to chill, carbonate, and serve beer – they are also highly customizable for anyone who is even remotely handy.
Kegerators are extremely attractive for home use for a few reasons. First, the footprint and low height – your home bar only needs to take up a cubic meter or so. Second, the functionality is surprisingly efficient at both carbonating and dispensing in a tight space. For most models used by home brewers, you can usually fit two Cornelius kegs into a single unit.
If you value visual aesthetics or don't have space for a full-size refrigerator to do your kegging in, the Kegerator is the best option for serving from Cornelius kegs. You just need to decide on the right model for you.
Homebrew Kegerator Conversion Kit
This is a favorite for beginners and people on a budget. Conversion kits contain the basic fittings you will need, but you'll need to source your own kegs, gas bottles, and refrigerator. An excellent option if you are good at finding second hand gear.
I highly recommend this approach if you enjoy making your own gear. Just read up on second-hand kegs for second hand kegs and gas bottles, beg your friends and family for an old fridge, and search for a conversion kit in your country.
If you are in the USA, check out Adventures in Homebrewing or Amazon for the best deals.
Dual Tap Kegerator
Getting a pre-made kegerator is a solid investment provided you have the funds to do so. They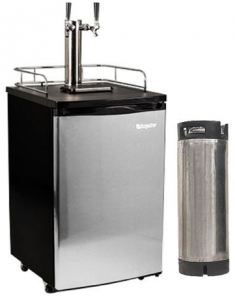 are built better than I can manage, sso I always prefer them to anything I make. Depending on the manufacturer, they often come with sleek, attractive designs and loads of useful features, like wheels and racks for your CO2 bottle.
When buying a pre-made kegerator, you will want to make sure you have a model that can keep up with your brewing schedule. Of course, you can always modify your system later, but if you are spending the money anyway, it's better to look ahead and buy at least a dual tap kegerator.
The best range I have found are actually on Amazon – I've prepared a list here. If you live outside of the USA, try these links.
Who Makes the Best Kegerator
My absolute favorite is the Edgestar with two kegs, simply because I love a good bargain and having absolutely everything I need. Plus, Edgestar Kegerators look really cool!
Unfortunately, I can't make the decision for you – I can only help inform you. That's why I have developed this list of things to check before you make a purchase. You will need to decide which options are best for you, and this should cover the basics:
Size: does this fit into your brewery? Be sure to make allowances for the tower, taps, and gas bottle.
Is it mobile? Does it come on wheels?
How many kegs can you fit inside?
Does it include the gas and beer splitters for the number of kegs you will be using at once?
Will it chill to a low enough temperature? For carbonation purposes, you will need to get your beer to 2ºC or lower (that's 35.5°F or lower).
Does it include space for your gas bottle?
Can you modify it later if you have to?
How sexy is it? (This one is important)
What size kegs does it take? Will Cornelius kegs fit including the couplings?
If buying a used model, was it a DIY or made by a manufacturer?
Whatever you choose, you are going to have a great time with your kegerator. It's a quantum leap in brewing – kegging takes you from having a rotation of bottles that take weeks to condition to pinpoint accuracy with secondary fermentation and packaging procedures.
Plus your friends will pretend you're cool and come drink your beer from your professional bar setup.
CHEERS!
I hope you have found this guide useful.
If you need help with anything or you want to share your own kegerator, please leave a comment below!
---