A collection of local brewers, tap masters and home brew hopefuls converged on The Pub, a taphouse in Shenzhen China, to test out the new Beer Lab. They have recently acquired Speidel's Braumeister 50 litre model, and I was anxious to try it out. This was the first time I'd used the 50 litre model!
Read on to see where we went wrong and how we recovered. Or, if you just want to watch the video of our disastrous brew day, just scroll down.
Location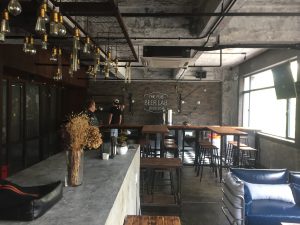 The Pub is in an ultra-hip part of Shekou, the oldest part of Shenzhen. It shares a warehouse with a motley collection of restraunts, coffee shops and market style retailers. Their taphouse boasts over 50 rotating craft beers from all over china and a few international offerings. Upstairs, via a spiral staircase, is the Beer Lab.
Pub owner Mark has dedicated this space to trying out brews for himself, purchasing a Braumeister and fermentation incubator.
Speidel's Braumeister 50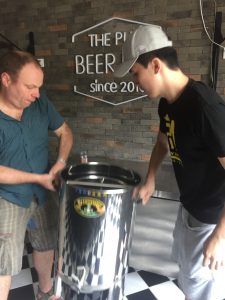 Although I've used the 20 litre and 200 litre versions, this was my first time using the 50 litre model. With Mark deciding the recipe, Pat and Justin doing the hard work and me manning the controls, we managed to totally mess everything up!
Despite this, the Braumeister remains one of my favourite homebrew systems. To find out more about what it can do, check out my in-depth review here: Speidel Braumeister Brewing System Review
Issue 1: The Volume
It turns out the Braumeister 50 can not handle less than 45 litres of liquid. This should have been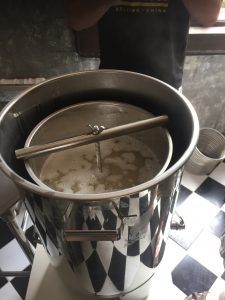 obvious to me just by looking at the system, but it wasn't. The recipe we used was for a 20 litre batch of pale ale.
As soon as we added the malt, the automatic recirculation system trapped all the wort inside the malt
pipe (grain basket.) Because there was not enough liquid to reach over the top of the malt pipe, it couldn't spill over the edges and cover the elements. It also risked damaging the internal pumps, due to them now running dry.
In the end, we had to solve the issue by raising the total volume of liquid to 45 litres and boiling for about two hours to reduce the volume to 35 litres. This meant we had a higher volume than expected and a lower starting gravity, therefore a thinner, milder beer.
Issue 2: The Power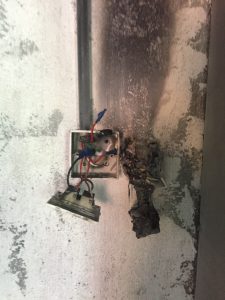 Speidel's Braumeister 50 draws about 13 amps, so allowing for a margin of error you need to have circuits that can handle up to 16 amps. This is usually not a problem, unless you happen to live in China.
The power socket we used had been connected on a circuit intended only for lighting, meaning it could not handle the draw we needed to operate the Braumeister. This inevitably led to a disaster – an electrical fire that melted the power socket right off the wall! We put it out with a fire extinguisher and called an electrician. A GOOD electrician.
Watch the video below to see the carnage…
Video not loading? Watch it on YouTube here!
Final Thoughts
Despite our best efforts to ruin the beer and burn down half of Shekou, the Braumeister 50 is just as easy to use as the 20 litre model. The automatic controls and overall ease of use are phenomenal. In addition, the 5% boil off rate we discovered is perfect for avoiding dirty tasting DMS in your beer.
If you would like to get one for yourself, you can find them on Amazon (here.)
CHEERS!
Have you tried the Braumeister 50 or have questions? Have you maybe had an even worse brew day than us? Leave a comment and tell us about it!