---
Ise Kadoya
A Japanese craft brewery from Ise presents the Grassy India Pale Ale. The short brown bottle and high-gloss (and shiny!) label are instantly eye catching. The name is immediately evocative of European noble hops added late in the process.
---
Beer Specs
Alcohol Content: 6% ABV
IBU: Not Given
Style: India Pale Ale
---
Presentation
Grassy IPA is a beautiful amber color with a strong opaque haze, which does not settle as fast as some bottle-conditioned ales. The beige head holds for a short while before giving way to light foam at the top of the glass.
Aroma
There is disappointingly little hop aroma to this supposedly 'grassy' beer, with malt and old yeast dominating the bouquet. The aroma suggests Ise Kadoya, like many Japanese microbreweries, has yet to master their yeast bank management.
Flavor
This is where the beer delivers on its promise of grassiness. From the start this IPA has a spicy and, indeed, grassy flavor, giving way to a strong, lasting bitterness with notes of lemon lingering on the palate. There is little to no 'vegetal' or 'butterscotch' flavor present, which is a large improvement over many local Japanese competitors, but an unfortunately high level of 'old yeast' flavor.
The mouth feel is malty and full, very good for the style. None of the oiliness present in so many new world ales and IPAs that are commonly available today. It's a pleasant enough drink and the lasting bitterness invites a second bottle.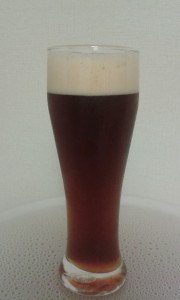 Verdict
Overall, Ise Kadoya Grassy IPA seems like an offer from an aspiring home brewer. Good, but not great. The lack of aroma, the excessive haze, and the use of an overly-recycled yeast detract from what could otherwise have been a truly excellent IPA. The good balance of malt and hop flavor and the pleasant finish do a lot to make up for this, and the beer is well worth a taste. It may not be a winning beer, but it is a pretty good drop.
Recommended For:
A winter's evening or a beer to go with strong-flavored hot dishes.
Ise Kadoya Grassy IPA is available in select bottle shops throughout Japan.
Cheers!
Have you tried the Grassy IPA or want to know more? Please leave a comment! Please also comment if you know of an international distributor, so other readers can enjoy this beer.