We Were Serving Warm Glasses of Foam
Several of my friends and I are known for throwing big home brew parties that last several days. We all provide as much home brew as we can for our guests, a combined effort that usually comes to around 1,000 liters over a weekend.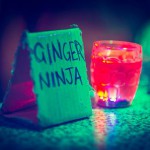 IIt's not uncommon for several hundred guests to turn up, though, so we have a mobile bar that often needs to serve hundreds of beers in a single hour. This meant we could not keep our kegs cold, which meant we were serving warm glasses of foam. We needed to figure out how to chill beer fast.
How Can We Fix This?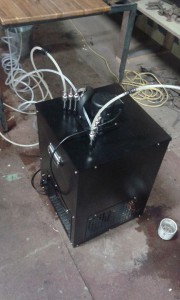 We knew the trick was to have the beer cold before reaching the taps, but with our combined brewing knowledge and fundraising efforts we had several choices. The final options available to us were: do we convert a mobile cool room into a cellar with external beer-line, or do we use an in-line beer chiller?
Since we have a high turnover of kegs at these events, we decided that the best option would be an in-line glycol chiller. We bought the Icemaster G40, a compact but powerful Glycol Chilling unit – it has the capacity to chill four beer lines, recirculates the glycol automatically, and runs an extra line through your taps, keeping the beer chilled even at the font.
…It's a seriously sexy machine.
Building a Compact In-Line Chiller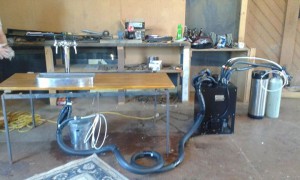 One weekend we converged on our storage shed and got to work. We had some rudimentary instructions, but we found it was pretty easy to put together. The real challenge lay in the mathematical equations needed to find the perfect length of our hose versus dispensing pressure.
Once we had that all together, we simply hooked up all the 6mm beer lines to the taps and insulated the lot with foam from a nearby hardware store. We used Cornelius Keg fittings so our bar staff could switch kegs fast, and a Cobra 3-tap flooded font. Our fourth beer line ran along the bar for use in a pluto-gun for shooting cider directly into party-goers' faces. Don't judge.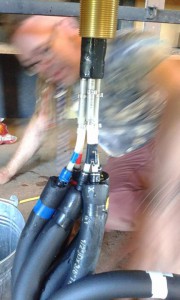 Thanks to some hard work from the team, especially The Professah, we soon had beer after beer pouring perfectly and just as cold as any bar tap.
Color-Code Everything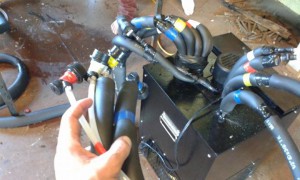 We knew our bar volunteers would not be able to resist the odd sample – after all, these are private parties – so we needed everything to be as foolproof as possible. Every line, every tap, every fitting is color-coded. Even in the middle of a pumping DJ set, a mostly-sober person can switch an empty keg to the correct tap with ease, and a mostly-sober brewer can fix any line issues.
This also really helps with beer-line cleaning procedures in the morning.
Field Test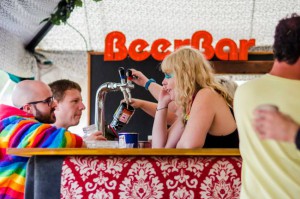 Soon after, our next party took place on a friend's farm. We had around 300 people show up and about 50 Cornelius Kegs full of beers and ciders that we had all made. We kept the kegs in a mobile cool-room until they were needed, at which point we would stack them next to the bar tent for serving.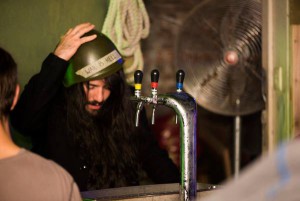 There were a couple of hiccups with the chiller – it tended to freeze up if we got the glycol concentration wrong – but overall, it was the best bunch of beers we've poured yet. Each one came out cold and clear with just a little head – exactly how you'd find it served in a bar.
Do It Yourself
If you have a bar at home, you probably don't need to go to this extreme level. However, for a bar or mobile event setup, particularly one with limitations on space, this is a perfect rig.
So far, I can only source this gear in Australia and China. If you are interested in replicating this kind of awesomeness, please send me an email on jesse@winningbeers.com, and I'll help you negotiate shipping.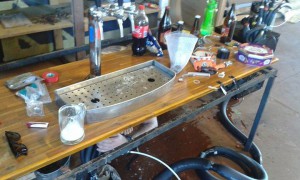 Cheers!
Do you like what you see here? Have you used an in-line chiller before or need help with chilling beer quickly? Please leave a comment and I'll respond as soon as I can.